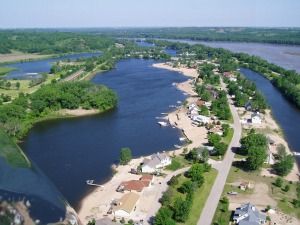 More than 50% of the state's population relies on the lower Platte River for drinking water. The majority of those individuals live within 30 miles of the river with a good percentage living closer to river either seasonally or increasingly year round. Additionally it is a popular river for full or partial body contact recreation activities, fishing, and home to three federally listed threatened or endangered species.
The Lower Platte River making up the corridor is split into two segments (LP1-10000 and LP1-20000) within Title 117 – Nebraska Surface Water Quality Standards. Both segments are considered to be Warmwater Aquatic Life Class A streams and are assigned the Public and Agriculture Water Supply, Primary Contact Recreation, and Aesthetic beneficial uses. The 2010 Nebraska Water Quality Integrated Report prepared by the Nebraska Department of Environmental Quality identified both segments as impaired by excessive E. coli bacteria and atrazine. Segment LP1-10000 is identified as impaired by high pH and selenium while LP1-20000 is impaired due to the presence of a fish consumption advisory.
E. coli bacteria Total Maximum Daily Loads (TMDLs) developed for segment LP1-10000 and LP1-20000 were approved by EPA Region 7 in 2007. Reductions necessary to achieve the water quality criteria for segments LP1-10000 and LP1-20000 are 64% and 85% respectively. The TMDLs indicate a combination of point and nonpoint sources contribute to the E. coli impairment.
To address the water quality impairments and concerns, the LPRCA is developing a nine element watershed management plan to address non-point source pollution in the lower Platte River Corridor. The plan is being developed through funding by the Nebraska Department of Environmental Quality's Non-Point Source Water Quality Program. This program is commonly referred to as "Section 319" program. The funds for the program originate with the Environmental Protection Agency per guidelines of Section 319 of the Clean Water Act.
Water Quality Management Plans are structured around nine elements. Those elements include identifying the causes and sources of pollutants, estimating the loading of the pollutants, identifying management practices that can be put into place to reduce the loads, how improvements can be monitored, and how to include stakeholders in the development of the plan.
A draft plan was submitted to NDEQ and EPA for their review in October 2014. Additional work was required by EPA and an amendment was completed. An updated draft of the Water Quality Management Plan was completed and submitted to EPA in July 2018. Based on EPA review and suggestions from the participating NRDs, changes are needed to the priority areas. An updated plan was submitted to NDEQ and on to EPA for final review on March 28, 2019. The plan was approved by EPA on April 9, 2019 and adopted by Alliance. The plan is available for view on this site and qualified projects in the priority 1 areas of the corridor are now eligible for 319 funding.