The Unique Lower Platte River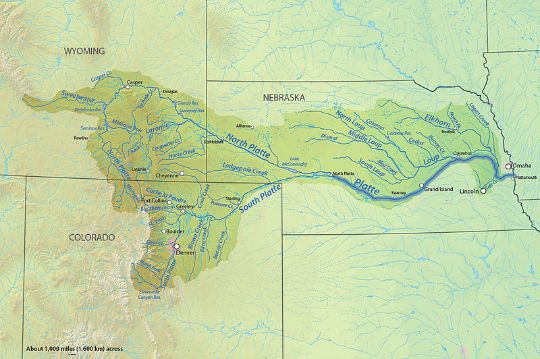 The headwaters of the Platte River are formed at the confluence of the North and South Platte River in Western Nebraska, east of the city of North Platte. The Platte then winds its way through 310 miles of Nebraskan countryside, rural communities, and population centers before emptying into the Missouri River. Approximately the last 110 miles of this journey make up what is known as the Lower Platte River. This concluding stretch traverses its way through eight counties in Nebraska, passing through 24 communities, crossing rural landscapes, and bisecting the Omaha-Lincoln metro corridor. Along the way, the waters of the Lower Platte River play a vital role not only for human needs and activities but also for a variety of flora and fauna, several of which are threatened and endangered.
The Lower Platte River is an often forgotten stretch of water when compared to its counterparts upstream. However, the Lower Platte is an economic, environmental, and recreational keystone in the State of Nebraska.
Lower Platte River Corridor

The Lower Platte River contains 5 of the state's top tourist attractions, to include multiple state parks, several premier golf courses, a wildlife safari, the Strategic Air & Space Museum, boat ramps, abundant hunting and fishing opportunities and a plethora of other recreational outlets. The recreation and tourism alone provided by the Lower Platte River account for approximately $30 million in revenue annually not including the licensing fees collected by the State.