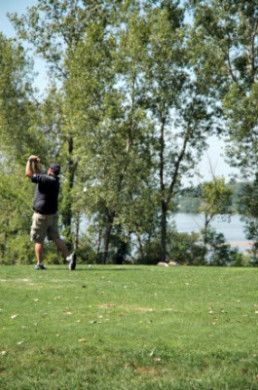 In 1997, the LPRCA began hosting a golf tournament to raise awareness of conservation needs along the Lower Platte River Corridor while enjoying a round of golf on the bluffs above the Platte River. The Water Quality Open is held annually at Quarry Oaks Golf Course, a leading golf course for both play and conservation practices. The Open is an all day event that is kicked off by a keynote presentation followed by 18 holes of golf with on-course demonstrations and trivia questions. A dinner, award ceremony, and door prizes round out the fun and educational day. The Water Quality Open would not be possible without the generous donations of our many sponsors, including our title sponsor NEBCO Inc. If you or your organization have an interest in donating or participating in this fabulous event please contact the Alliance.
The last Open was held Thursday, August 25, 2016 at Quarry Oaks.  The keynote speaker was Elizabeth VanWormer, Assistant Professor of Practice and One Health Coordinator, School of Veterinary Science and Biomedical Sciences, School of Natural Resources, University of Nebraska-Lincoln. Liz focuses on health at the interface of humans, animals (both domestic and wild), and the environment in the US and abroad. After studying veterinary medicine at Michigan State University and epidemiology at the University of California, Davis, Liz spent three years living and working on One Health projects in Tanzania. One Health is an approach that brings together diverse stakeholders, disciplines, and perspectives to address complex health challenges facing people, animals, and ecosystems. After joining UNL in November 2015, Liz is working to build partnerships with interdisciplinary teams and local stakeholders to study effects of environmental change on animal, human, and ecosystem health. 
There was no Open held in 2017-2019 and there is currently no Water Quality Open planned for 2020.
---
---
2014 Water Quality Open Photos
---
2013 Water Quality Open Pictures
---
2012 Water Quality Open Photo Albums